Embroidery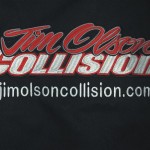 Our embroidery machines are the latest state-of-the-art Tajimas that run up to 4 copies at one time. We do all our own in-house digitizing, or changing your art into an custom embroidery file, suitable for our machines to read. Since we can change the pattern, or part of the pattern at any point in the production run, you are assured of the highest quality products. We don't buy our digitizing from an out-of-state or out-of-country digitizing house. There is no way to control the quality if the digitizer does not see the finished product on the actual production machines.

Fashion Film
Fashion Film (sometimes referred to as "vinyl")  is individually computer-cut letters that are professionally applied to shirts. Team names and individual numbers are a good use for fashion film. One-of-a-kind gifts can also be made of fashion film, but look like the ink of screenprinting.

Transfers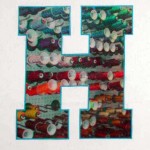 Digital or film photographs are professionally applied to shirts on a transfer. There are great for individual, gag or birthday gifts.

Screenprinting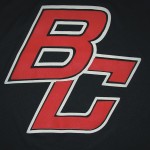 Screenprinting is ink screened onto a shirt in up to 6 colors. Each color of the design needs its own screen made at $25.00 per screen. Some people still call this process "silk screening," although silk is no longer part of the process. T-shirt designs for screenprinting are endless.

Bling Rhinestones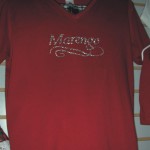 Sometimes the best way to decorate a shirt is with bling. As you can see, HyperStitch has done many different types of patterns with rhinestones. They all look like fun! HyperStitch uses only the best korean stones, with A1 grade glue. There is a wide selection of stone size and stone color. Heat and pressure is applied to the shirt to secure each rhinestone Your wild imagination is the only limit to rhinestone decoration! For most standard 6 x 4 patterns, there is a one-time $25 art charge. After that, each pattern is only $10, which is for the bling and attachment to any shirt. Most ladies shirts suitable for this decoration are $8 – 14, so check out our catalogs!