Shipping
We will ship products via USPS, UPS, or FedEx at our discretion.
Shipping Rates
Less than $30 $9.75
$30.01 – $50 $12.25
$50.01-$200 $14.25
Over $200 $18.25
Some products may take 7-10 business days to ship depending on availability. If you choose to pickup your merchandise at our store you will receive an email when your item is ready for pickup. Order status can be checked from your account.
First Time Ordering? We Can Help!
When ordering on the HyperStitch website, it's important to input your Zip Code so you can select a shipping method that's right for you.
Watch this video for more help selecting a shipping method: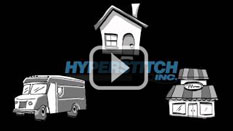 Payment
You can pay us with a Credit Card, bank transfer, or balance transfer through Paypal. It is fast and secure. Your payment is processed through PayPal and we never have access to your information. We receive confirmation once payment is made and begin processing your order. Visit www.paypal.com for more information about using PayPal.
We also accept Certified Checks and Money Orders mailed to us. Please note that your order will not be processed until payment has been received. Please allow at least 1 additional week to receive your order if paying by Certified Check or Money Order.
Payments can also be made securely online through Paypal to orders@hyperstitch.com.
Visit www.paypal.com for more information.
Returns
Returns are accepted for 10 days after shipment ONLY if the item you received differs from the item you ordered. We will accept responsibility for return shipment and re-ship the correct item. You will not receive credit for the item if it is returned in un-sellable condition.
If you do receive the wrong item you must email us for a Return Goods Authorization number which will be issued at our discretion. No credit will be issued for any returns without an RGA number.
Please be sure you really want it. If you need more information about an item before you order, please email us at orders@hyperstitch.com. Our warehouse door only opens one way! Thank You!