Artwork is where it all begins.  HyperStitch can customize embroidery, screenprinting or sublimation to your style.  We have thousands of clip art and embroidery designs to choose from.  Better yet, we can take your logo, family crest or just a favorite photo to decorate a garment, mouse pad, jewelry box or mug.  We can generate art from computer files, pictures or business cards.  Many of our customers email us their art, or have their graphics person email it to us.  JPG, GIF or BMP usually works fine, but vector art is always preferred.  Or, we can scan your design and convert it into a wonderful – looking garment.  For embroidery, our graphics department will digitize your artwork by redrawing your logo and placing stitches over the design to create the pattern.  Your design will then be saved to a disk for our embroidery machine.  Your color choices are endless.
Screenprinting and sublimation can use a variety of computer art programs to produce your art.  However, your business card will work just fine as original art.  The graphics department will scan your card.  Sometimes a minimum amount of art cleanup will make your design sharp and crisp for imprinting onto garments.  However, sometimes we will have to start from scratch and redraw the design on the computer.  HyperStitch even has the capability of personalizing shirts with signatures.  Once we have your approved art, we will run the design through a special program separating each color.  The next step is to print out the design on special paper which is used for preparing the screens.  A separate screen is used for each color with a maximum of six colors.
Great Artwork is the beginning of a great-looking garment.
You see a mock-up of your artwork on paper or in stitches for approval before we decorate your shirts.  We want your order to be perfect!
How to Email
Embroidery Art  emb@hyperstitch.com
Embroidery art is very flexible, with low resolutions.  Although we would prefer a JPG file, a DOC, TIF or BMP works too.  Or, you can stop by HyperStitch with a business card, stationary or even a shirt and we will scan your art into our system.  Our embroidery software is forgiving, since digitizing means putting stitches over your art on the monitor. We generate new art using your file.
Screenprinting Art art@hyperstitch.com
In screenprinting, the sharper/cleaner the art, the better your product. We use Corel Draw, so a CDR file is our first choice. However, a vector file such as an AI, EPS or PDF file at a high resolution is also easily workable. The "cleaner" your art, the less time we spend cleaning it up, which is a cost savings to you. If a printer or graphic artist generated your logo, we can get it directly from them, and save you art fees!
Sometimes there is no backup art and the only corporate logo is on a sign, or stationary, or the side of a truck!  Not to worry. The HyperStitch staff can take whatever you have, and transform it into great looking screenprinting or embroidery art!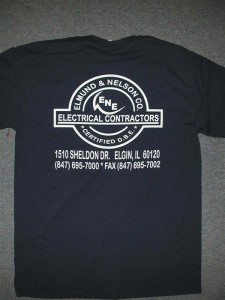 On the left you see the original sketch made by our customer. On the right you see the finished printed shirt after our graphics people waved their magic wand. Needless to say, the customer was very happy!